Unbeatable Gutter Cleaning Services in Rockville, MD
Why Gutter Cleaning is Non-Negotiable in Rockville, MD
For Rockville property owners, clean gutters aren't a luxury; they're a necessity. Beyond mere aesthetics, a well-maintained gutter system is crucial for the structural integrity of both residential and commercial buildings. Especially during Maryland's rainy seasons, your gutters work overtime to manage water flow. That's why regular Cleaning services in Rockville, MD, are indispensable to avoid costly repairs.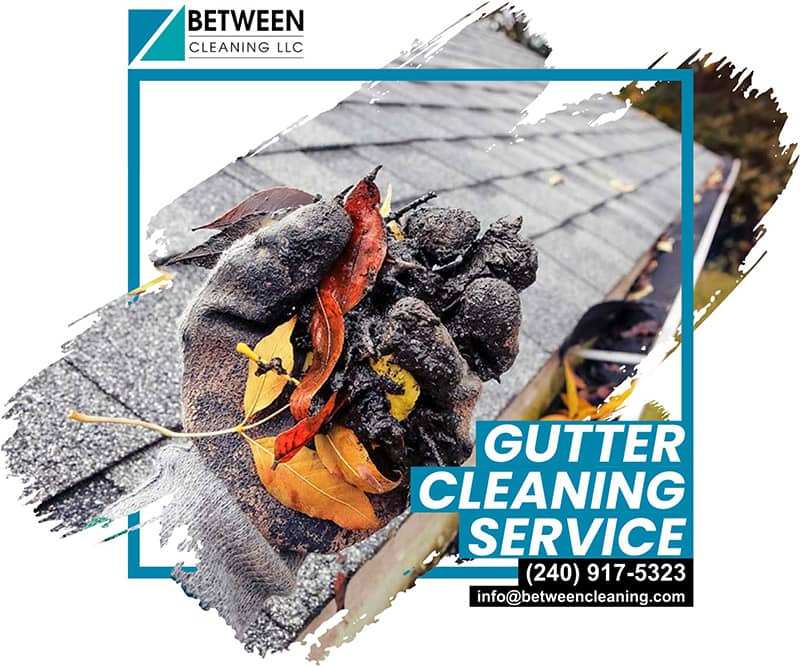 Between Cleaning: Your Go-To for Professional Gutter Cleaning in Rockville, MD
At Between Cleaning, we set the gold standard for gutter cleaning services in Rockville, MD. Our seasoned professionals understand that each property has unique needs, and we tailor our services to meet them. We offer timely, high-quality, and affordable solutions that protect your investment today and for years to come.
Residential Gutter Cleaning: Safeguard Your Home
Clogged gutters are more than an eyesore; they're a ticking time bomb for potential water damage. Our comprehensive residential gutter cleaning services nip this problem in the bud, ensuring that rainwater is effectively redirected away from your property. Trust us to keep your home safe and sound.  
Commercial Gutter Cleaning: Keep Your Business Running Smoothly
For commercial properties, a neglected gutter system can spell operational disaster, from leaks to structural damage that hits your bottom line. Our specialized services, including Pressure Washing, are designed to meet the unique needs of businesses, ensuring minimal disruption and maximum efficiency.
The Undeniable Benefits of Regular Gutter Maintenance
When it comes to property maintenance, gutter cleaning often takes a backseat, but the benefits of keeping your gutters clean are manifold and extend far beyond mere aesthetics.
Regular gutter maintenance is not just a chore; it's an essential practice that offers a plethora of benefits, from structural integrity and reduced repair costs to improved aesthetics and peace of mind. 
Trust Between Cleaning to deliver top-notch gutter cleaning services in Rockville that keep these benefits front and center.
What Our Clients Are Saying
Ellen McLaughlin
Window Cleaning
I would give 20 stars if I could. Our windows sparkle with their magic. Edwin, Brenda, and the team are amazing!!!! They have cleaned our windows for several years and they continue to provide outstanding service. I highly recommend !
Lot Kwarteng
window Cleaning
Amazing customer service and great outcomes with this company. Edwin did a phenomenal power washing job at a good price point. Between Cleaning will have my business for a long time!
Elaine Homstad
Glass & mirror cleaning
I had my windows washed last min before an open house in Silver Spring - could not be happier with the job this company did.I will be using them often going forward.-Chris
Jeff Carr
Window Cleaning
Edwin and Brenda power washed and cleaned my windows. They arrived on time and the work was excellent. They were very conscientious about not disturbing my landscape and plants and tracking in any dirt into the house. Very nice people. Fair price. I recommend them to all.
Get Your Free Estimate Today!
Still unsure about your gutter cleaning needs? Don't hesitate to reach out for a free, no-obligation estimate. At Between Cleaning, we're committed to exceeding your expectations, every time.
Choose Between Cleaning for all your gutter cleaning needs in Rockville, MD. We're not just about clean gutters; we're about a cleaner, safer, and more efficient living and working environment. Contact us today!
Other Cleaning Services We Offer in Rockville, MD
Commercial Cleaning in Rockville
PROFESSIONAL AND RELIABLE CLEANING SERVICES. LET'S US KNOW HOW WE CAN HELP!