Deck Restoration washington dc
Professional Deck Restoration & Cleaning all across Washington dc, Maryland, and North Virginia.
The Best Deck Restoration Company in DC, MD, VA
Between Cleaning LLC offers the finest deck restoration services in Washington DC, North Virginia, and Maryland. We can power wash and stain, sand and paint, or reinstall existing wood boards for you professionally and efficiently. SCHEDULE A FREE VISIT.
We specialize in cleaning, renovating, restoring, and protecting the decks on multi-family homes, single-family homes, commercial buildings, and even commercial decks. We feature a mildew-resistant finish and save you over 50% compared to deck replacements.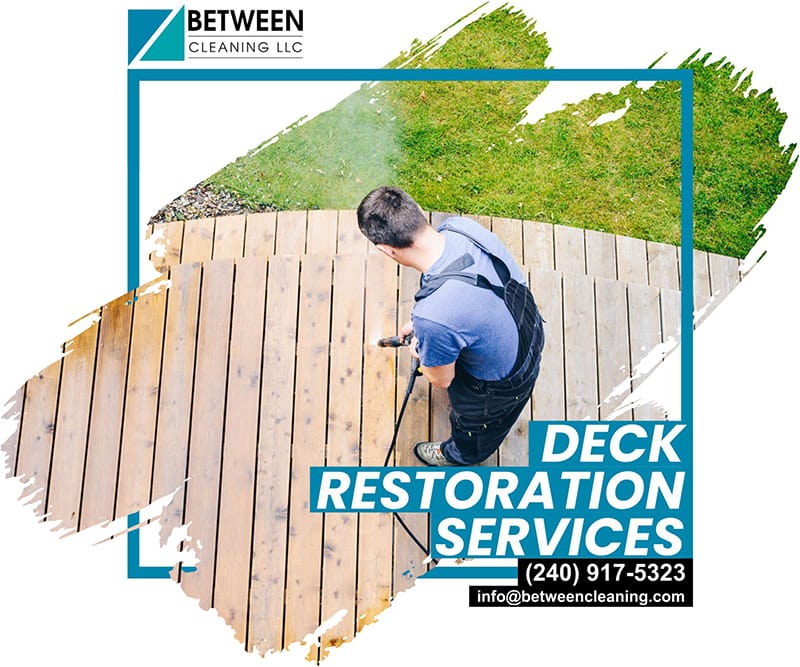 When do you Need a Deck Restoration?
Deck restoration is something that should be done on a yearly basis to keep the wood on your deck in top shape. If you have wooden decks, you'll need to do a regular inspection and maintenance to avoid the deterioration of your wood.
Staining your deck is a great way to give it new life and keep it free from fading and peeling issues. However, if done wrong, patio stains won't survive prolonged and must be repaired.
Not only is it difficult, but it can also endanger the wood used in the deck if it is not done by a seasoned professional.
We recommend getting it set up first and doing maintenance after six months. GET A FREE ESTIMATE
Why Choose Between Cleaning LLC?
We know how important the cleanliness of your deck is to you. It's more than just a place to relax; it's your sanctuary from the rest of the world.
We specialize in ensuring that the decks of homeowners, commercial property owners, and rental property managers are always ready for action.
Your deck will look new again with a refreshed look
With improved durability and safety, your terrace will be more enjoyable
Tinting prevents sun damage
The PressureLess
Cleaning System Gentle on Wood
Wood's grain and texture will be highlighted after Staining
Free Wood Evaluation
Service & product price match guarantee
From one-time cleaning to monthly cleaning services, we are your one-stop shop for all your deck cleaning needs.
Best Deck Restoration Near Me
Is there an ongoing problem with your deck? Before it is too late, deck repairs must be addressed immediately, from damaged boards to post replacements. If you encounter any deck problems, we have the expertise to fix them.
Between Cleaning LLC takes a comprehensive approach to deck maintenance and restoration. It's important that you have an outdoor living space that lasts many years and looks great for a long time to come.
Warped, Split, Or Cracked Deck Boards
Loose Screws And Nails
Rotten Post And Wood
Discolouration And Stains
Unstable Railings And Stairs
Pests Infestation And Molds
Take immediate action if you see any or all of these visible signs on your deck. You can always speak with a professional contractor if you are still unsure whether you need a replacement, restoration, or repair. You don't have to ask: What contractors offer deck repair near me? We are here to help you. Providing deck repair and restoration services in Washington DC, Maryland, and North Virginia is what we specialize in.
We can discuss the cost-effective options and high-quality services you deserve by calling (240) 917-5323 today.
The Trusted Deck Cleaners
PROFESSIONAL AND RELIABLE CLEANING SERVICES. LET'S US KNOW HOW WE CAN HELP!