Gutter Cleaning in Washington DC
We provide commercial and residential gutter cleaning throughout the DC metro area.
Keep Your Gutter System in Great Shape with Between Cleaning
Many people underestimate the importance of gutters. Even a little bit of debris trapped in the gutter or downspout can cause problems.
You can trust Between Cleaning to keep your gutters working smoothly. Cleaning gutters is a dirty task that can even be dangerous due to the height of most gutters. We can get the job done quickly and safely, restoring your gutter system to function once again!
Between Cleaning provides expert gutter cleaning services in Northern VA, MD, and the DC area. We are fully licensed and insured. With a 100% satisfaction guarantee, we provide affordable, trustworthy gutter cleaning services.
Get a free estimate today and avoid expensive repairs with regular gutter cleaning!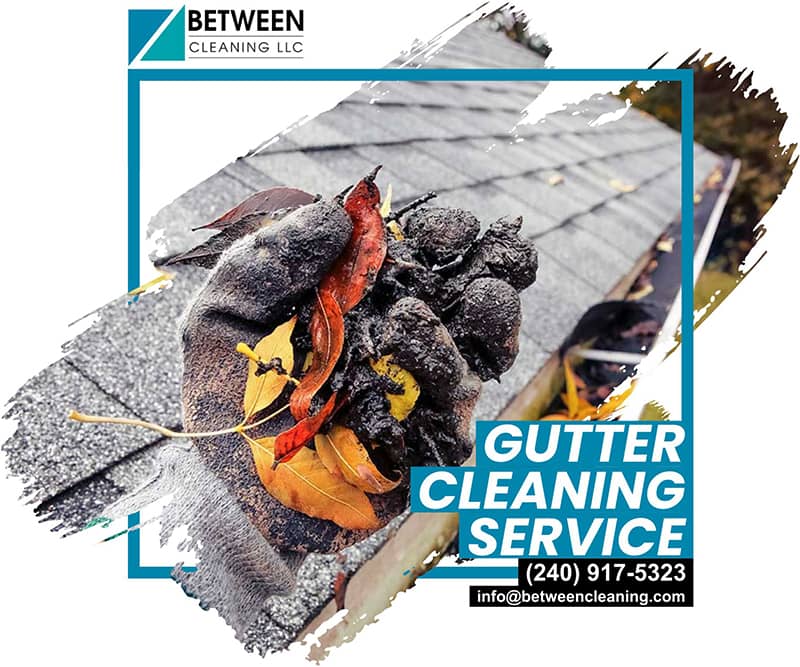 Best Pressure Washing in MD, Northern VA, and Washington DC
Gutters are a crucial part of protecting your home or commercial building from water damage.
Standing water can cause roof leaks, cracks in your foundation, rotting wood, and other serious (and expensive!) problems. Gutters and downspouts are designed to direct water away from your home's roof and foundation.

However, when clogged with leaves and twigs, rainwater will spill out of the gutter. This can ruin roofs and landscaping, rot wood siding or window frames, and even cause foundation damage. Worst case scenario, the roof could weaken and lead to serious leaks and mold damage. Or, the foundation could crack and threaten the integrity of the structure.

In addition to these serious issues, you can also get annoying issues like mosquitoes from standing water or staining from water running down the side of your home or commercial building.

By simply cleaning your gutters, you can save yourself from thousands of dollars of water damage. You will also protect your home and spend less money in the long run. With the right maintenance, your gutters, downspouts, roof, and other parts of your home will remain in good working order for many years.  
The Best Gutter Cleaning Company in MD
Searching for affordable, professional gutter cleaning? Between Cleaning is dedicated to keeping your gutters in excellent working condition.
We offer competitive, affordable prices. Customer satisfaction is our top priority. Not only will we remove clogs and keep your gutters in great shape. We will also clean up everything before we leave and ensure everything looks better than when we arrived.
Get in touch with us if you have any questions or to get a free estimate. We serve the entire DC metro area, including Maryland and Northern Virginia. We look forward to hearing from you!
PROFESSIONAL AND RELIABLE CLEANING SERVICES. LET'S US KNOW HOW WE CAN HELP!