RESIDENTIAL CLEANING SERVICES
Residential services all across Washington DC, Maryland, and North Virginia.
The Best Residential Cleaning in Washington DC
Our team is here to tackle your time-consuming exterior home tasks, so you don't have to.
The beginning of summer to early fall is the best time to complete outdoor chores before it gets cold. However, this is the time for families to take vacations. Instead of trying to make time to clean your home's exterior between vacations and work, Between Cleaning LLC is here to help you.
Between Cleaning LLC will enhance your home's curb appeal with a variety of exterior cleaning services. Call us or fill out an online contact form to get a free quote for any of our services.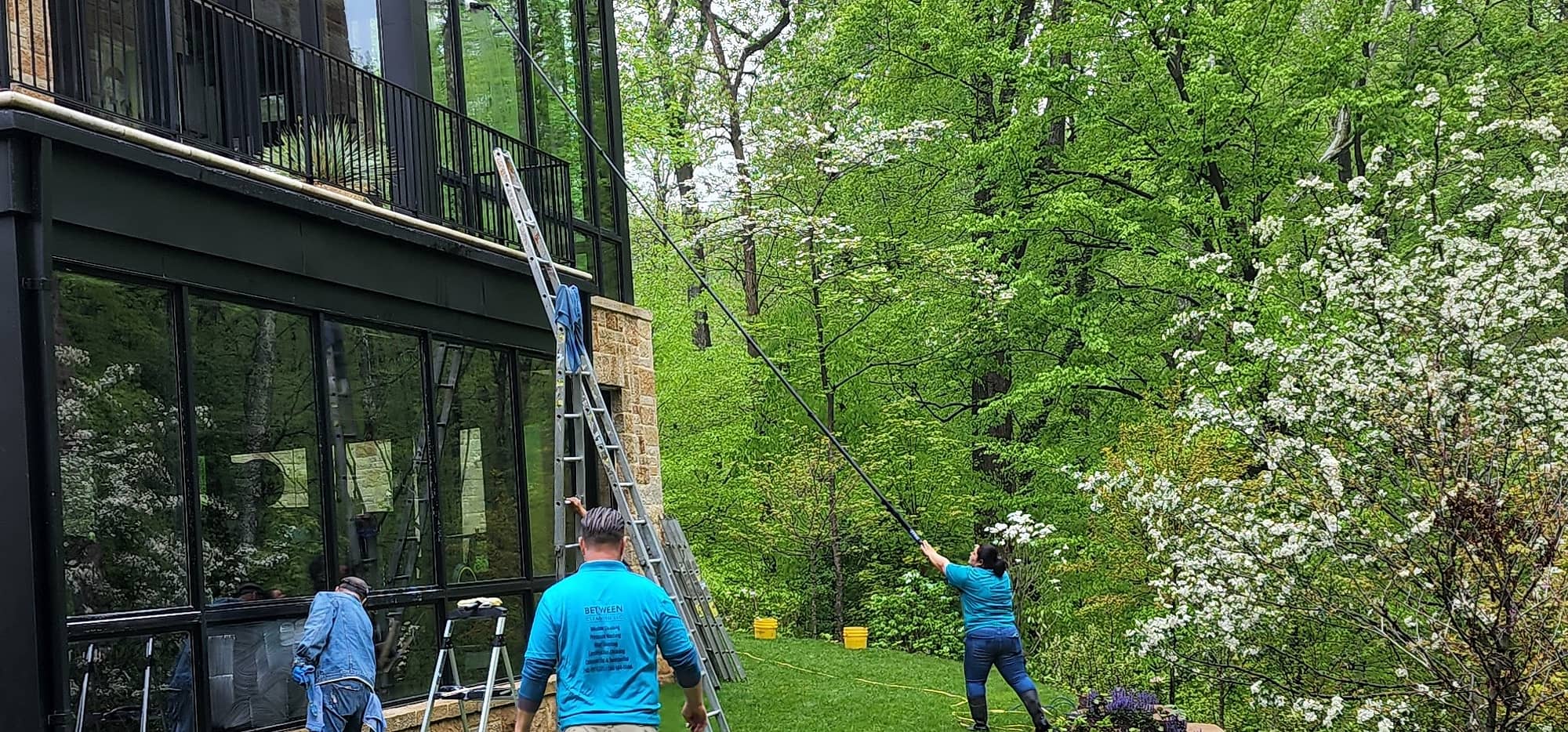 Cleaning your windows is challenging with two-story or higher homes. Our window cleaning team uses high-quality equipment to do the job safely and efficiently. We use environmentally friendly cleaning products and follow all OSHA and EPA guidelines. Cleaning your windows regularly can help in the following ways:
Prevent glass degradation
Retain heat more
Prevent bad air quality
Between Cleaning will make your home look brand new again with our pressure washing services. Fences, siding, sidewalks, and other exterior features can be power washed. Our team uses professional-grade tools and techniques to avoid damaging any surfaces during the power washing process. Power washing removes grime, dirt, and mildew to increase the life of your home's features.
A dirty, damaged roof causes costly issues down the road when your roof is not well-kept. Dirt and moss deteriorate the life of your roof's shingles over time. Our Maryland roof cleaning team will clear off your roof and alert you if we come across any damage needing to be assessed. We will safely clean your roof so you don't risk an injury.
Gutter Cleaning and Gutter Covers
When your gutter system is clogged with leaves, sticks, and other debris, it can cause water damage to your home. It is important to keep your gutter system free of debris and regularly clean it out. Please do not attempt to clean gutters without the help of qualified professionals. We use specialized equipment to avoid falls that easily reach to upper stories. Our team cleans your gutter systems thoroughly to avoid any future clogs. Gutter covers then keep any debris out and allow water to pass through the mesh cover.
To work efficiently, solar panels need to be kept clean. If your panels are covered in grime or dust, they will not be able to fully absorb the sun's rays. Our Maryland team has experience cleaning crystalline, polysilicon, thin film, concentrator, and photovoltaic solar panels. We always use safe cleaning products and equipment to avoid causing damage to the solar panels.
Between Cleaning LLC is here to help you get these exterior projects done before the cold weather hits. Call us or fill out our contact form to get a free estimate today!
You do not. We can complete the job while you are at work, on vacation, or getting groceries.
We offer our exterior cleaning services in Washington D.C., Maryland, and Northern Virginia.
Gavin Thomson
They were timely and did a great job cleaning my roof, the front of my home and driveway. Everything looks great and like new. Excellent service.
Lot Kwarteng
Amazing customer service and great outcomes with this company. Edwin did a phenomenal power washing job at a good price point. Between Cleaning will have my business for a long time!
Elaine Homstad
I had my windows washed last min before an open house in Silver Spring - could not be happier with the job this company did.I will be using them often going forward.-Chris
Bridge Waugh
Excellent service for gutter cleaning. Will use again. Very thorough and cleared clogged gutters. On time and very professional
PROFESSIONAL AND RELIABLE CLEANING SERVICES. LET'S US KNOW HOW WE CAN HELP!